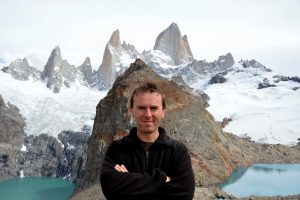 "Myworldtrips" is ontstaan uit de passie van wereldreiziger Dominiek Druart (°1976).
Zijn passie voor reizen en cultuur is mateloos. Dit uit zich al jarenlang in woord en beeld. Reisreportages, radioprogramma's, fototentoonstellingen, documentaires, actief medewerker aan tal van initatieven en activiteiten rond reizen en cultuur… niets is Dominiek te veel. Hij is een duivel-doet-al, die niet alleen plannen smeedt, maar ze ook uitvoert. Hij bruist van de ideeën die tot een interessante kruisbestuiving leiden waarbij hij de grenzen van zijn talenten verkent en verlegt.
De onweerstaanbare drang om telkens opnieuw de wereld in te trekken en nieuwe ervaringen op te doen, bracht Dominiek de voorbije 25 jaar al naar meer dan 130 landen. Hiermee is hij misschien wel de grootste wereldreiziger van Vlaanderen.
Eén van de meest memorabele overlandreizen was die van zijn thuisland België naar Indonesië. In Thailand hield hij meer dan drie jaar halt om zijn droom te verwezenlijken, namelijk voor een langere periode zelfstandig werken en wonen in een andere cultuur. In zijn 'Thaibasecamp' guesthouse en restaurant verwende Dominiek zijn gasten tot in de puntjes. Ook een andere droom – reisbegeleider worden – kon hij er waarmaken.
De wereld is voor Dominiek zijn dorp geworden, maar in Vlaanderen klopt zijn hart nog net iets sneller. Hier bouwde hij zijn basiskamp en doopte het als 'Reis- & cultuurhuis Buddhas'. Zijn woning heeft hij helemaal ingericht in functie van zijn reizen, want hij wil zijn kennis en ervaringen met anderen delen.
Je vindt er heel wat foto's en souvenirs die hij van verschillende landen meebracht. Het is zelfs een vergaderruimte waar verenigingen, organisaties of klassen een voorstelling kunnen krijgen. Reisinfo vind je keurig geordend in zijn reisbibliotheek. Buddhas is een verzamelplaats van reisherinneringen, maar tegelijk worden er nieuwe reisplannen geboren.
Nu wil Dominiek iedereen laten kennismaken met de realisatie van "myworldtrips". Bezoek zijn uitgebreide website, lees één van zijn blogs of boeken, bezoek zijn reishuis, geniet van zijn prachtige reisreportages en laat je bedelven onder straffe indrukken. Je vraagt je na afloop vast af waarom je zelf in je stoel blijft zitten.