I've always been a little attracted with Andalusia, the southern region of Spain. Everything from the enchanting name to the historical cultural influence of the ancient Moors fascinates me. My wife has introduced me to Andalusia and since my first visit I have a passion for Spanish culture. Andalusia is the perfect destination to experience the music, food, and architecture.
Andalucía covers most of southern Spain and contains many of the places – Seville, Granada, the 'white villages'. Here is a short overview of the places we have been to.
The Alhambra Palace and Grenada. This group of palaces and gardens is a UNESCO World Heritage site. Located in the city of Granada,this began as a fortress over 1000 years ago. As the years passed it changed gradually as different monarchs conquered the Kingdom of Al Andalus. A fascinating history lies before any visitor to this spectacular place. The intricate plasterwork on its walls seems unending. The reflective details in the architecture adds symmetry to the Nasrid palaces. As you wander through the Alhambra complex you may think you have travelled back in time. Alhambra is one of Europ's most impressive places I've been to.
We went to a Flamenco show aswell. One of the most well known attractions in Granada are the Sacromonte caves and the Flamenco shows that can be enjoyed all along that road. Since the end of the 17th century Flamenco has been popular in Granada and Andalusia.
Cordoba. Yet another UNESCO World Heritage site, the Mezquita of Cordoba is well worth a visit. Building of this impressive mosque began in 786 and took around 200 years to complete. This Cathedral mosuqe is located in the centre of old quarter of Cordoba. The central hall is full of hundreds of columns and arches. Many of these stone columns came from other countries across the empire although at a first glance they look alike. Cordoba is also well known for it´s colourful patio festival. Our walk around the old streets after dark was magical.
Seville. I love the city of Seville it's an amazing place. Monuments worth visiting in the city are the Cathedral of Seville with the its famous Giralda, the Alcázar and the Archivo General de Indias. The three buildings are UNESCO listed. The Plaza de España, Parque Maria Luisa and the neighbourhood of Triana are also worth to visit.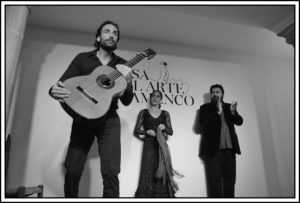 ——————————————————————————————————————————————————————————
Ik ben altijd al een beetje aangetrokken geweest door Andalusië, het zuidelijke deel van Spanje. Haar betoverende naam met de historische oude Moorse culturele invloed, fascineert mij. Mijn vrouw heeft me geïntroduceerd in Andalusië en sinds mijn eerste bezoek heb ik een passie voor de Spaanse cultuur. Andalusië is de perfecte bestemming om hun muziek, eten en architectuur te ervaren.
Bekende plaatsen in Andalusië die we hebben bezocht zijn Seville, Granada,Cordoba en de 'witte dorpjes'.Mocht je ook naar deze sfeervolle Spaanse regio trekken mis dan de volgende 'trekpleisters' niet.
Het Alhambra Paleis en Grenada. Deze groep van paleizen en tuinen behoren al lang tot UNESCO World Heritage Site. Gelegen in Granada, is het Alhambra in zijn vroeger geschiedenis een fort geweest, zo'n 1000 jaar geleden. Naarmate de jaren voorbij vlogen, veranderde het geleidelijk toen verschillende koningen het Koninkrijk "Al Andalus" overwonnen. De fascinerende geschiedenis van het Alhambra maakt het voor zijn bezoekers een onvergetelijke ervaring. Het kleurrijke pleisterwerk op de muren lijkt onverwoestbaar. De reflecterende details in de architectuur voegt de perfecte symmetrie toe aan de Nasridpaleizen. Wanneer we het in Alhambra-complex rondwandelden, was het percies alsof we terug in de tijd werden gekatapulteerd. Het is één van de meest indrukwekkende plaatsen in Europa waar ik al ben geweest.
We gingen ook naar een Flamenco show. Dit moet je meemaken wanneer je in Andalusië bent. Sinds het einde van de 17e eeuw is Flamenco erg populair in Granada en Andalusië. En nu je toch in Granada bent mag je een bezoekje aan de Sacromonte grotten ook niet overslaan.
Cordoba. Nog een UNESCO World Heritage Site, de Mezquita van Cordoba is een bezoek meerd dan waard. De bouw van deze indrukwekkende moskee begon in 786 en duurde ongeveer 200 jaar. Deze kathedraal moskee is gelegen in het centrum van de oude wijk van Cordoba. De centrale hal is indrukwekkend door zijn honderden kolommen en bogen. Veel van deze steenkolommen kwamen uit andere landen over het rijk, hoewel ze op het eerste gezicht gelijk lijken. Cordoba is ook bekend om zijn kleurrijke patiofestival. Onze wandeling door de oude straatjes na het donker was magisch.
Seville. Ik hou van de stad Seville, het is een geweldige plek. Monumenten die de moeite waard zijn om te bezoeken in de stad zijn de kathedraal van Sevilla met zijn beroemde Giralda, de Alcázar en de Archivo General de Indias. De drie gebouwen zijn eveneens opgenomen door UNESCO . Het Plaza de España, Parque Maria Luisa en de buurt van Triana zijn ook niet te missen.