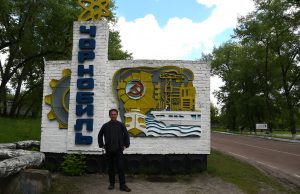 26 april 1986. Persoonlijk herinner ik me die dag nog levendig.Het is mijn tiende verjaardag. Terwijl ikzelf in België een verjaardagsfeestje hielt, sloeg het noodlot toe in het jonge Sovjet-stadje Pripyat – 18 kilometer ten noordwesten van de stad Tsjernobyl (Chernobyl).
In de nabijgelegen kerncentrale wordt een test met de koelinstallatie uitgevoerd, maar door een fout komt de hele reactor stil te liggen. Die nacht ontploft de reactor en bij de brand en explosie komen 31 mensen om het leven. In de dagen daarna komt de evacuatie maar moeizaam op gang. Het duurt meer dan een week om 135.000 mensen uit het gebied te halen en doordat het radioactieve materiaal door de wind naar het noorden en noordwesten wordt heeft de ramp ook zijn uitwerking op de rest van Europa. Het was het zwaarste ongeval met een kerncentrale in de geschiedenis waarbij grote hoeveelheden radioactieve stoffen vrijkwamen.
In de jaren die volgen gaat de omgeving rondom Pripyat en Tsjernobyl hermetisch op slot vanwege hoge radioactiviteit. De mensen zijn al jaren verdwenen, maar alle gebouwen staan nog overeind. De natuur heeft de afgelopen jaren vrij spel gehad, en van het vroegere arbeidersstadje is nog maar weinig over. Tot op heden zijn er in het gebied grote gevolgen voor de volksgezondheid.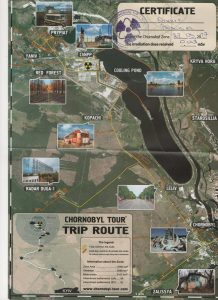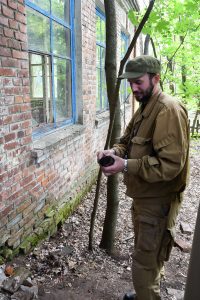 EEN TOUR NAAR TSJERNOBYL
Tsjernobyl is 30 jaar na de ramp veilig te bezoeken via een georganiseerde excursie. Nu ik toch op rondreis was door Oekraïne wou ik dit zeker niet missen. De bus vertrok nabij het busstation van Kiev. Met enkele andere toeristen worden we naar de grens van de afgesloten zone gebracht. De rit duurde best een tijdje, maar onze chauffeur liet ons een documentaire over de kernramp zien. Hevig onder de indruk bereiken we het eerste controlepunt. Iedereen moet de bus uit en zijn paspoort laten zien. Wanneer dat in orde blijkt rijden we verder. We tuffen over een oude weg en om ons heen zien we niets. Slechts bomen en velden met metershoog gras en onkruid.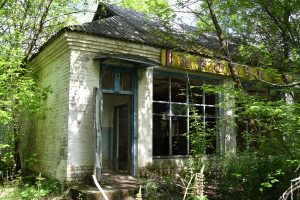 Niet veel later stoppen we bij een huis. Het blijkt een oude kinderopvang te zijn. Onze gids geeft iedereen een mondkapje en vertelt dat we nergens aan mogen zitten, vanwege het stralingsgevaar. We stappen een overwoekerde huisje binnen.De voormalige bewoners moesten hier hun grond verlaten en bezittingen achterlaten.
Wat verderop bezochten we een kinderziekenhuis. De onopgemaakte kinderbedjes staan schots en scheef. Dekentjes liggen rommelig op de matrasjes en overal liggen verlaten kinderspeeltjes. Het is overduidelijk dat de mensen halsoverkop zijn vertrokken. Poppen, teddyberen en speelgoed zie je overal terug, alleen de kinderen missen. Iedereen is doodstil en denkt na over wat hier 31 jaar geleden is gebeurd.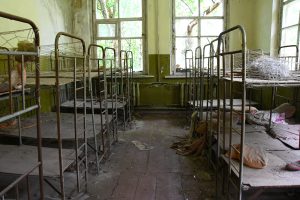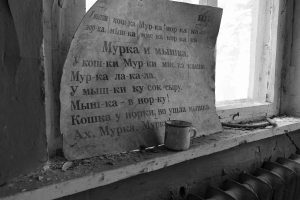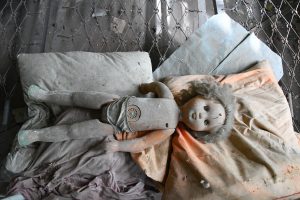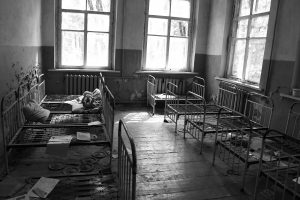 SPOOKSTAD PRIPYAT
Na een korte stop in Tsjernobyl, de stad waarnaar de kernramp is vernoemd, vertrekken we naar Pripyat. Het stadje dat het dichtst bij de kerncentrale stond.
Onder begeleiding lopen we door de straten. Straten waar overal bomen groeien. Waar je heel goed moet kijken om überhaupt een flatgebouw te kunnen onderscheiden. We bezoeken een oud ziekenhuis, waar de röntgenfoto's op de grond liggen, patiëntendossiers rondslingeren en waar de flesjes met medicijnen nog gewoon in de vensterbank staan. Volgens de regels is het verboden om de gebouwen te betreden, maar volgens onze gids zijn er weinig bewakers in de buurt. Dus lopen we daarom door het mortuarium, door de wachtkamer en door de donkere verlaten gangen van het ziekenhuis. Het laat een zeer speciale indruk op ons na.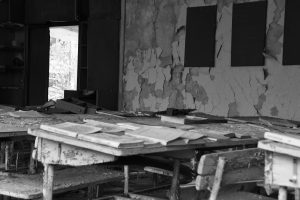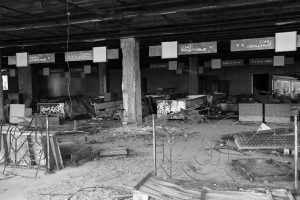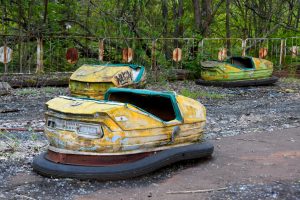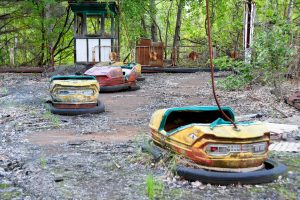 We gaan verder en schuifelen door sportscholen, schoolgebouwen en supermarkten. Af en toe stoppen we en houden we de stralingsmeter bij een voorwerp. Hoe sneller het ding piept, hoe meer het voorwerp is besmet.
Toch is de dosis laag en veilig genoeg om het gebied te bezoeken. Uit tests blijkt dat je meer straling oploopt als je in 3,5 uur van Brussel naar Kiev vliegt dan wanneer je een dag het gebied rond de reactor bezoekt.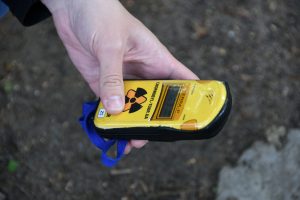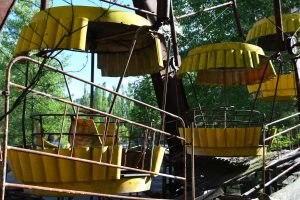 Tussen de middag lunchen we in een oude kantine. Voordat we mogen eten moeten we eerst door een bodyscan om te kijken of we inmiddels groen uitslaan.
Gelukkig zijn we nog gezond en mogen we met een dienblaadje onze Sovjet-lunch ophalen. Tomatensoep met brood, gekookte aardappelen met stukje vlees en een beetje sla. Geen culinair feest, maar de ervaring is compleet.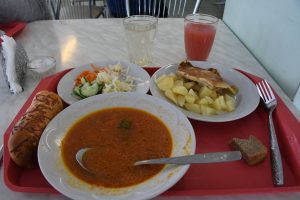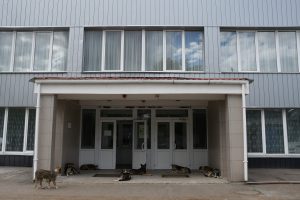 SARCOFAAG
Als we onze buik vol hebben is het tijd voor een bezoekje aan de kernreactor. Met de bus rijden we naar de kerncentrale en bezoeken we de nieuwe sarcofaag die rondom de reactor is geplaatst. De geigerteller begint weer te piepen. Na de ramp in 1986 werd meteen een betonnen laag om de reactor heen gebouwd, maar daar zijn intussen veel scheuren in gekomen. Er ligt nog altijd radioactief materiaal binnen: experts schatten zo'n 200 ton verrijkt uranium.Er moest dringend een nieuwe beschermende sarcofaan gebouwd worden! De bouw van een nieuwe sarcofaag begon uiteindelijk 2010 en heeft ernstige vertraging opgelopen. In de tussentijd zijn delen van het gebouw ingestort door ouderdom of slechte reparatie na de ramp. De bouw gebeurde op enkele honderden meters van de reactor en is nadien via een rolsysteem en veel precisiewerk op zijn plaats geschoven. De huls heeft twee functies: het zwaar beschadigde gebouw beschermen tegen regen en wind en voorkomen dat het verder instort. Binnenin kan men beginnen met sloop- en opruimwerk. Straling die daarbij vrijkomt, dringt dan niet meer naar buiten, de kap moet dat tegenhouden.In november 2016 werd de nieuwe sarcofaag op zijn plek geschoven is. Hij is 150 meter lang, 257 meter breed en 105 meter hoog; een puur staaltje ingenieurskunst! De totale kosten voor het afschermen van de restanten van de centrale zouden naar schatting ongeveer 1,5 miljard euro zijn.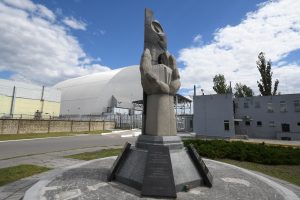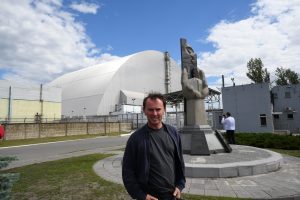 Bij het verlaten van de zone werden we onderworpen aan een stralingsmeting. De straling van het gebied rondom Tjsernobyl wordt continue door wetenschappers en experts in de gaten gehouden.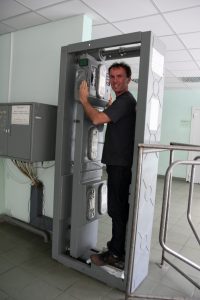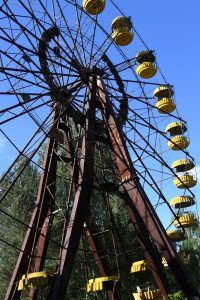 Er wonen officieel geen mensen meer binnen een straal van 30 km om Tjsernobyl. Het gebied is afgezet en wordt bewaakt door binnenlandse veiligheidstroepen en militairen. Alleen met toestemming van het Ministerie van Binnenlandse Zaken kan men, alleen onder begeleiding, het gebied bezoeken. Tjsernobyl is zeker geen attractiepark waar men bij de ingang een kaartje koopt. Het is een stukje geschiedenis, een zeer indrukwekkende en educatieve plek, waarvan jong en oud veel kunnen leren.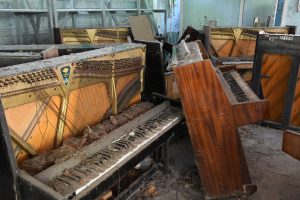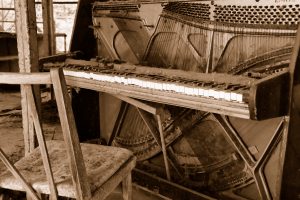 Wellicht zal Tsjernobyl nog lang een verlaten gebied zal blijven. De mensen willen niet terugkeren naar de steden die er liggen. Bovendien komt er over 100 jaar nog steeds straling uit de reactor, dus het probleem blijft.